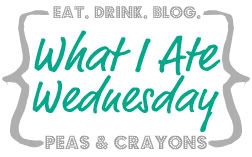 Happy What I Ate Wednesday!
Today, I decided to mix up my usual format. Usually, I write out my dinners for a week. But I thought I'd do it the old-fashioned way (aka, the way that everyone else does it) and post a day worth of eats for you today. I personally find them a bit boring. But at the same time, I read everyone else's eats for a day, so, who knows? Maybe you guys will enjoy it as well?
P.S., I'm not reporting water intake. Because I lost track. My bad!
Breakfast:
Pretty typical breakfast for me. I commute, so I need something I can eat on-the-go. I've been trying to find a healthier cereal to much on. Right now I'm trying out 'Whole Hearts', because I liked the ingredient list. Plus, coffee & a banana. The last part's pretty usual for me, but sometimes I have a Homemade Clif Bar or a bagel instead of the cereal.
–
Work: 
I made a cup of that Emergen-cy stuff (but it's knock-off, cause I'm cheap). I've been sick, and everyone at work is dropping like fleas, so this sounded like a good idea, today.
–
Snack: 
Around 10:30 I got a little munchy, so I grabbed an orange. I accidentally bought blood oranges, which I usually don't purchase, but they've been pretty tasty. It wasn't so much my accident as the grocery store mis-labeling the Navel oranges. No big!
–
Lunch:
I forgot/didn't bring my lunch (you decide which), so I grabbed Subway. It's about the only 'fast-food' the town I work in has, but if there's only going to be one, Subway's what I choose! I usually get the Turkey-Ham on wheat, with all the veggies except lettuce (ew) and jalapenos. I also got Sun Chips – this new(ish) 6 Grain Medley is pretty good! Plus, I got a cherry-coke. Yes, I'm drinking soda again, but it's a conscious choice, not an addiction any more. (Thank God.)
–
Fuel: 
On my drive home, I had a couple FRS Energy Chews form my Bulu Box. They aren't my absolute favorite, but give me a little jolt to gear up for my workout when I get back to town.
–
Dinner: 
Phyll made chicken fajitas for dinner. Yum! Easy but oh-so-tasty.
–
Snacktime:
Well, this is probably dinner-extended, but I was still hungry after the fajita so I had a couple cheese sticks from dinner over the weekend. That (pretty much) did the trick!
Whew! It's hard tracking an entire day. I don't know how people normally do it!
What do you think of the different format for today?
What do you normally have for an on-the-go breakfast? I'd love ideas!